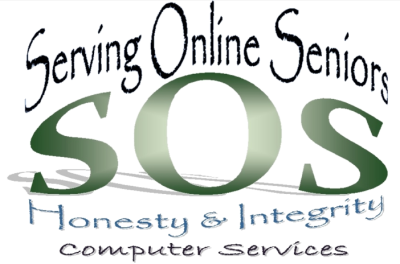 Our History and Our Future
What makes us different than all of the other computer repair shops out there?  At SOS Computer Services, we don't treat you like a number.  We treat everyone with Honesty and Integrity!

Serving Online Seniors was started out of an honest, sincere need for computer repair, training and assistance specifically designed for seniors.  What Pat and Claudette noticed upon retiring and moving to Mesa in 2000, was that seniors were vulnerable to the computer repair shops, including the large chain stores.  Seniors were being over-charged, taken advantage of and intentionally kept ignorant towards their computers. 

Some of the assistance they gave in the first few months, within their community (Sun Life Resort), was heart breaking!  They were appalled at what they saw happening to seniors.  They decided to provide the lowest cost assistance they could and they even worked out of their own home at the beginning.  Word spread quickly and the need for assistance was overwhelming.

Family Owned & Operated Since 2002...
Thus Serving Online Seniors was born!  Years later and we are still here!  We  recently moved to 3820 E. Main St Suite 3 in Mesa.  We have a customer base over 9,000 loyal customers.  SOS Computer Services continues to provide inexpensive, honest and sincere service. 

In 2005, their daughter Tessa has joined the business to help out.  With over 25 years of computer experience, she has the same morals and standards that they built the business on.  She has received accolades from seniors that she has worked with and has helped to add energy and knowledge to the business.  She continues to run the business with the same honest and inexpensive computer repair and services.

SOS Computer Services provides computer repair, computer services and training.  From Computer repair and new computer setup to help with Tablets or even your Smartphone!  We offer assistance in-shop, on the phone, in-home and even remotely.  Wendy answers 25 to 50 calls a day, so please be patient with us and leave a message or shoot us an email with your question.  You can email us at info@mesasos.com.  Can't come to us? Not a problem!  We also offer a low cost pick up and drop off service on top of our in-home and remote services!

We now even work on Apple/MAC products as well!  We can help with a number of issues most Apple users have and we are learning new things daily. 

We Will Never Try To Upsell!

Our company does not and will NEVER sell computers, but we do try to keep basic parts on hand to ensure the fastest fix possible if a part is needed.  So if we tell you your computer is not worth repairing or has fatal flaws; we are not just trying to sell you a new computer!  If special parts are needed, we research the part for you and find the most inexpensive part available and even order it for you!  There is no exurbanite markup on custom part orders, just to make a quick buck. We try to pass the savings off to you when we find deals.

So there it is!  We hope you stop by and give us a chance to show you how we do business here at SOS Computer Services.  With regular yearly computer maintenance we can help keep your computer running smoothly for years to come!  Welcome to a place you can always trust to treat your fairly and as always....with Honesty and Integrity!